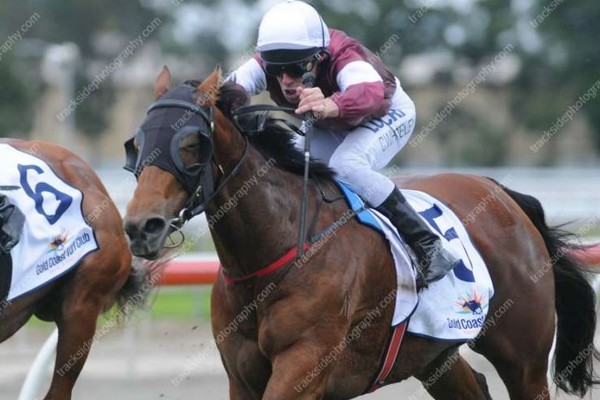 | | |
| --- | --- |
| Sire | Not A Single Doubt |
| Dam | Cash Crazy |
| Dam Sire | Secret Savings |
| Category | Tried Horses |
| Location | NSW |
| Price | SOLD |
This girl is simply a class above - NSW SPEED MACHINE! IN FULL WORK!
Get in QUICK before the OWNERS CHANGE THEIR MINDS!!!
This girl ran a TOUGH hard fought 2nd at GOULBURN over 1000ms on the 1st November.
Had she drawn a barrier she would have WON EASY!!! She had BY FAR THE TOUGHEST RUN IN THE RACE coming from a WIDE BARRIER and absolutely DESTROYS her inside opposition after being 3 WIDE, NO COVER and UP ON THE SPEED!!!
Watch the Replay (link below)
Cheering is only a 4YO with 11 Starts under her belt for 1 WIN and 6 PLACINGS and still has plenty to offer as a racing mare. She has good early speed and generally races up on the pace and can run time.
If she draws a gate and takes a sit up on the speed, she will consistently win, as already shown in her Gold Coast win on the 27th of June.
Being the versatile galloper she is, even when she doesn't draw a gate, and has to do it the hard way, she shows her tenacity and will to perform. That's why in her 11 starts, she has only been out of the top 5 once!
She is by Not a Single Doubt – Sire of the super filly MIRACLES OF LIFE, a multiple Group 1 winner and winner of the 2YO BLUE DIAMOND STAKES.
Her Dam is Cash Crazy by Secret Savings – Broodmare Sire of SAMAREADY, again a multiple Group 1 winner and winner of the 2YO BLUE DIAMOND STAKES.
The combination of these two Sires through her Dam produces quality SPEED that has already been shown by her older FULL SISTER – 'Jackpot Queen", WINNER of the 2YO Country Classic, WELLINGTON BOOT and 3 Metro Races at FLEMINGTON, CAULFIELD and RANDWICK-Kensington.
She has another Full Sister, 3YO PLENTY OF CASH who has had 3 Starts as a 2YO with 1 WIN a Second and a third. In her last start on the 14th of June she tried to buck the rider off losing 6 Lengths AND STILL WON THE RACE!!! Once she becomes a racehorse she will do as her name suggests and win PLENTY OF CASH.
I think this girl is a great buy with REAL EARNING POTENTIAL as both a racing prospect and Broodmare.
http://racing.racingnsw.com.au/FreeFields/VideoResult.aspx?MeetDate=2015Nov01&VenueCode=NTE4NTA=&RaceNumber=3&MeetingCategory=Professional&VideoFileType=FullReplay