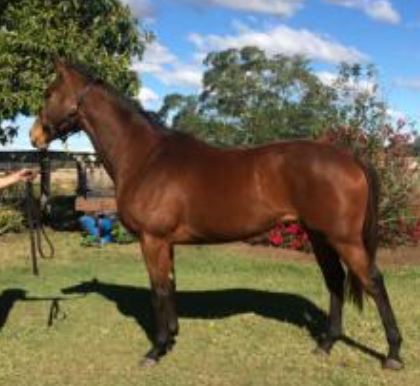 | | |
| --- | --- |
| Sire | Shaft |
| Dam | Navy Blues |
| Dam Sire | Blue Eyed Boy |
| Category | Ready To Run |
| Location | NSW |
| Price | LEASED |
Paid up for BOBS and BROKEN IN but UNTESTED!! GENUINE SALE!
This girls Dam produced 9 horses to race with 7 of them being WINNERS including talented Gallopers `FELIXTRINIDAD`, the talented 8 x METROPOLITAN WINNING SPRINTER/MILER, 10 x WINNING `KING OF SPAIN` 4 x WINNING `VOLITAIRE LUMIERE` and 4 x WINNING `YO FERDINAND`
Shes a big strong Filly, solid boned and correct.
She has some ABSOLUTE CHAMPIONS in her pedigree including HONG KONG GALLOPERS HORSE OF THE YEAR and CHAMPION STAYER `INDIGENIOUS` who won over $34,000.000.00 HKD and GROUP 1 WINNER `STEINBECK` (PURE CHAMPION)
This girl has had all the hard work done!!! Shes been given time buy her owner, has been broken in last month and paid up for bobs but due to personal reasons has to be sold along with several others (listed).
She has yet to have a proper preparation!!
For further information please call Dani on 0433382107
All Vet Checks Welcome!